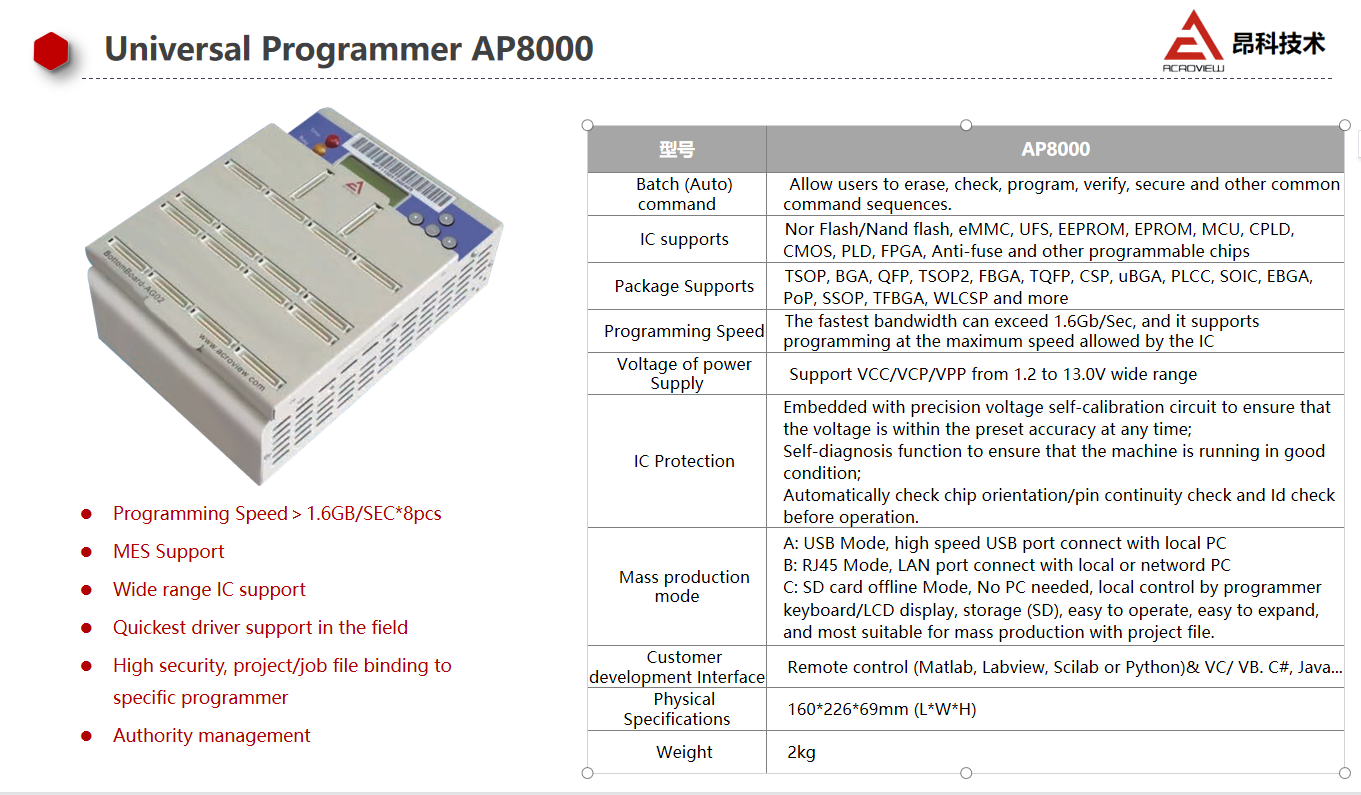 Fully Device support
Flash memory device:
Supports tier 1 memory devices including:
Cypress ESMT Etron Samsung SK Hynix Kioxia Macronix Microchip Micron Winbond ... and many more!
Including:
NAND NOR MoviNAND iNAND eMMC eSD GBNAND SD MMC OneNAND UFS... and many more!
NAND bad block management:
• Technology to skip bad blocks
• Other NAND Flash bad block management methods recognized by chip manufacturers
Microcontroller:
Cypress Infineon Microchip NXP Renesas Samsung ST Silicon Labs TI Toshiba... and many more!
Support all mainstream packages:
TSOP CSP SOIC SSOP BGA FBGA uBGA EasyBGA TFBGA QFP TQFP PLCC PoP WLCSP... and many more!
Common programming function options:
Program Read Verify Blank Check Illegal Bit Check Erase Secure PinContinuity Protec/UnProtect Autosense
Specification
Communication port
• RJ45 port
• USB port
Electrical requirements
• Working voltage: 110 to 240 VAC
• Power: 3 watts
• Frequency range: 50 to 60 Hz
Physical specifications
• Width: 16.0cm
• Length: 22.6cm
• Height: 6.9cm
• Weight: 2kg
Environmental requirements
• Ordinary office environment/power supply
Temperature
• Working temperature: 0°C to +50°C
• Transport temperature: -4°C to +70°C
• Storage temperature: 0°C to +70°C
Humidity
• Working humidity: up to 70%, no condensation
• Storage humidity: up to 80%, no condensation
Service
• One year warranty
• Free software upgrades
Windows computer requirements:
• Operating system: Windows 2000, XP, or above
• Hard disk capacity: minimum 2 GB plus storage capacity for device data
• SD card slot (for task card, optional configuration)
• Network Interface
• USB interface
• CD ROM drive
Standard package.
1. AP8000 universal programmer
2. Power cord
3. USB 2.0 cable
4. Network cable
5. Driver by CD
6. User manual
7. Warranty card
8. Disclaimer